Shri. I. S. Jha
Chairman
Shri I.S.Jha, (DIN : 00015615), is the non – executive Chairman of our Company. Prior to his present assignment as CMD, POWERGRID, he has successfully served as Director (Projects) in POWERGRID since Sept'09 wherein he has been responsible for planning, engineering, project management, monitoring and implementation of all transmission and distribution projects. An Electrical Engineer from NIT, Jamshedpur, he is a well-known Electrical Power System Professional having more than 35 years of rich and varied work experience to his credit. He began his professional career in 1981 as an Executive Trainee in NTPC. He has been associated with POWERGRID since its inception in 1991 and has been part of departments such as Engineering, Distribution Management System (DMS), and Corporate Monitoring Group. He has worked as Executive Director of North Eastern Region, Engineering and Corporate Monitoring Group in POWERGRID. While working at various projects and Corporate Office of NTPC and POWERGRID, he was involved in conceptualisation, planning, design, engineering, monitoring and implementation of projects of national importance.
Apart from these, he has been a lead Member in Planning, Engineering and Execution of APDRP and RGGVY schemes in POWERGRID. He is member of Governing Body of CPRI, Bangalore and Empowered Committee of Government of India for promoting competition in Power Transmission Sector. He is also associated with professional bodies such as Institution of Engineers – India, Power Engineering Society of IEEE – USA, and International Council on Large Electric Systems (CIGRE) – France. He has published/presented numerous articles, technical papers in the field of power system in various international and National Journals/Conferences. He was appointed as a Director on our Board in September, 2011 and as non – executive Chairman w.e.f. 01.10.2015.
---
Shri. Ravi Prakash Singh
Director
Shri Ravi Prakash Singh (DIN: 05240974), is part – time Director in our Company. He did his Mechanical Engineering from NIT, Allahabad in First Class with Honours and Post Graduate Diploma in HR from AIMA, New Delhi. He is presently holding the position of Director (Personnel) in POWERGRID. Prior to that, he has held the positions of Executive Director (Eastern Region-II) and Executive Director (Human Resource Management & Corporate Communication) in POWERGRID. Shri Singh has over 34 years of work experience in the power sector handling various multi-disciplinary functions like HR, Telecom, Contracts, Materials, Planning, Monitoring and Transmission System Construction/O&M. Prior to joining POWERGRID in 1991, Shri Singh had worked for 10 years in NTPC. He was appointed as a Director on our Board in February, 2016.
---
Ms. Bharati
Government Nominee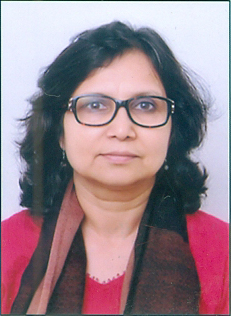 Ms. Bharati (DIN: 0792560) is the Government Nominee Director of our Company.  She has done her M.Tech in Energy studies from IIT, Delhi and M.Sc in Physics from IIT, Kanpur. Ms Bharti joined the Indian Forest Service in 1992. She has worked in the Sikkim Forest Deptt. and Science & Technology Department for more than 14 years in various capacities, including, the first Member Secretary of the State Forest Development Agency during 2009-2014 and also served as the Member Secretary of the State Biodiversity Board of Sikkim. During this period, Ms. Bharati led scientific projects on popularization of Rural Technologies, Remote Sensing & GIS activities and Patent Information Centre. She was also a member of Human & Institutional Development Core Group, Deptt. of Planning, Govt. of Sikkim.
She has done a 'Certificate Programme in Public Policy' from GSPP, University of California, Berkley, USA, a Certificate Course in Applications of GIS in Forest Management from IIRS, Dehradun and Masters in Forestry from IGNFA, Dehradun.
Prior to her present assignment as Joint Secretary in Ministry of Power since August, 2017, Ms. Bharati was Director, MoEFCC, Govt. of India, where she worked in the 'National Mission for a Green India' which is one of the eight missions under the National Action Plan on Climate Change and as Science and Technology Correspondent for United Nations Convention to Combat Desertification (UNCCD) for India. She was overseeing the functioning of Desertification Cell of Ministry which is the nodal authority for reporting to this Convention. She has been appointed as a Director on our Board in August' 2017.
---
Shri. Jatindra Nath Swain
Government Nominee
Shri Jatindra Nath Swain (DIN: 01969056) is an IAS officer from 1988 batch Tamil Nadu Cadre. He is presently working as Joint Secretary, Ministry of New & Renewable Energy. He is looking after development of policies and programmes for Grid connected projects for Rooftop Solar & Decentralized Solar Generation; Solar Power Project; Setting up of New Institutions; Formulation, Implementation as well as monitoring of Start-ups Policy, Geothermal of MNRE and International Relations of MNRE. Prior to that, he has handled various assignments like Director, Handlooms, Handicrafts, Textiles & Khadi Deptt Sericulture, Salem; Managing Director, Industries and Commerce Deptt., Salem; Collector, Revenue & disaster Management Deptt, Collectorate, Pudukkottai; Commissioner, Higher Education Deptt. Dte of Technical Education, Chennai; Commissioner, Agriculture Deptt. Watershed & Soil Conservation, Chennai; Registrar, Co-operation, Food & Consumer Protection Deptt., Chennai; Secretary, Food, Civil Supplies & Consumer Protection Deptt., Chennai; CEO, Handlooms, Handicrafts, Textiles & Khadi Deptt., Chennai; Principal Secretary & Commissioner, Land Records & Survey Deptt, Chennai. Shri Jatindra Nath Swain has done M.A.(Eco) from Delhi School of Economics. He has also done his PG in Economics and M.A. (Intl. Dev. Studies) GRIPS, from Tokyo, Japan. He has been appointed as a Director on our Board in July 2017.
---
Shri. Jagdishbhai Ishwarbhai Patel
Independent Director
Shri Jagdishbhai I Patel [DIN:02291361], is a B.Sc., ASTMUT, MBA (Ind.) and has an illustrious career spanning over 35 years contribution in the areas of Energy Generation, Mining and Space sectors as engineering solution providers and strategic planner over business auxiliary units. Having been Director (Tech.) at Pushpak Trademech Limited, as well as KIA Infrastructure Development Limited and an active member of Gujarat Chamber of Commerce and Industry (GCCI), he has served as a member of several institutions such as, District Implementation & Industrial Management Committee of ITI, Industrial Management Committee of IGTR and has also served as the President as well as Treasurer at LUB-Gujarat. He is also member of Standing Committee/ Town Planning Committee/ Solid Waste Management Committee of AMC. He was appointed as an Independent Director on the Board of POSOCO in February, 2016.
---